Luxus Liegenschaften
THE EXCLUSIVE REAL ESTATE PORTAL FOR LIVING AESTHETES AND REAL ESTATE PROFESSIONALS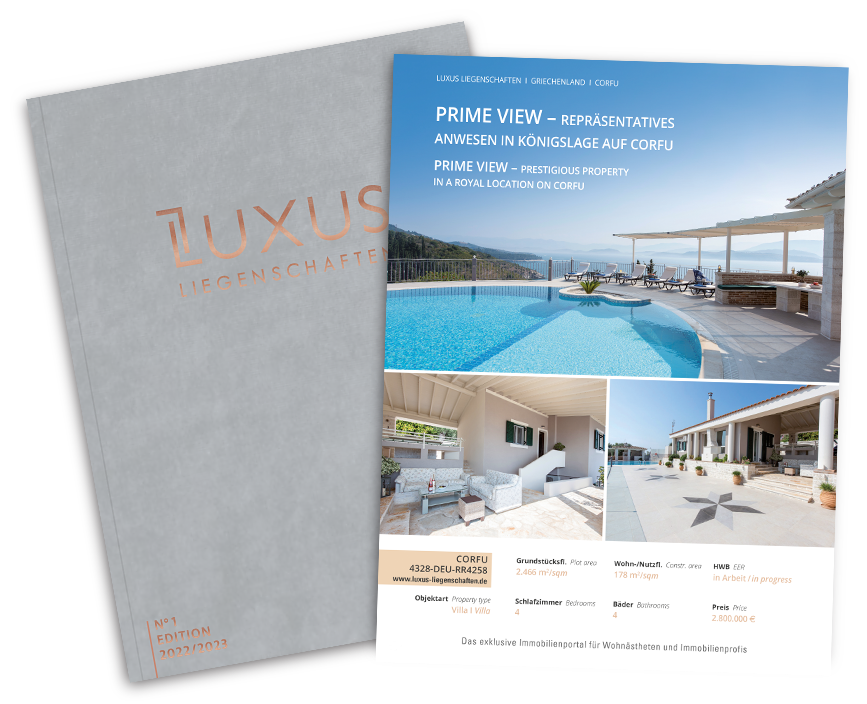 Luxus Liegenschaften - Edition No 1
Finest Premium & Luxury Estates
Let yourself be inspired by the beauty and uniqueness of our exclusive image magazine » Finest Premium & Luxury Estates « on the following pages and enjoy a fine selection of international, aesthetic living dreams in their purest form with our Edition No.1.
To the current edition
LUXUS LIEGENSCHAFTEN NEWSLETTER
Stay up to date with our news from the luxury properties real estate world.
LUXUS LIEGENSCHAFTEN OFF-MARKET-POOL
Get Access to our discreet and non-publicly marketed premium properties.
MASTERPIECE - Stunning designer beach villa in Marbella
Beautiful front line villa with direct sea access
Country house

in Alaró / Mallorca
Incredible country house at the foot of the Tramuntana mountains in Alaró, Mallorca
Apartment / Flat

in Dubai Harbour
Modern apartment with fantastic open view
Villa

in Arabian Ranches 3
Elegant new construction luxury villa
Villa

in Puerto de Andratx / Mallorca
Stylishly renovated townhouse with sea view near the promenade of Port Andratx
Villa

in Calvià / Santa Ponça
Modern designer luxury villa with unique pool landscape and magnificent views in Santa Ponça
Villa

in Calvià / Santa Ponça
Designer villa with panoramic views of the bay of Santa Ponsa
Country house

in Alcúdia / Mallorca
Stone finca with guest house and huge plot in Port Alcudia, Mallorca
Unique residence in Dubrovnik
Beautiful sea view villa near Split
Gorgeous luxury villa with private sea access
Elegant stone villa with sea access near Trogir
Unique new construction villa with unobstructed view of the sea and the island of Krk
Multi-storey apartment

in Berlin
Panoramic view over the rooftops - luxury apartment with two fireplaces
Penthouse

in Frankfurt am Main
Oasis in the green
Apartment / Flat

in Berlin
Beautiful garden apartment in high-quality new building in Berlin Dahlem
Maisonette apartment

in Bad Doberan / Heiligendamm
Logierhaus Villa Klingler - duplex apartment on the Baltic Sea
Apartment / Flat

in palma de Mallorca
Exclusive apartment in passive house style in the heart of Palma
LUXUS LIEGENSCHAFTEN GOES "DUBAI"
Discover our new location DUBAI
Dubai is practically unrivaled in terms of breathtaking buildings and therefore the incredible abundance of skyscrapers, shopping malls as well as the multitude of hotels is a highlight of this incredible metropolitan city. A unique and vibrant real estate market with incredible investment opportunities.
DISCOVER NOW
PREMIUM PARTNER
Our selected luxury properties partners for you
CONCEPT FILMS
Discover now our different areas with image and sound
Luxus Liegenschaften again in the press focus! Read one of the last press reports on FOCUS ONLINE about the special concept of our exclusive marketing platform
PRESS RELEASE FOCUS ONLINE
You would like to have your high-quality property marketed professionally and discreetly via our specialized platform? We offer different concept solutions for your individual needs.
MARKET PROPERTY
WELCOME TO THE LUXUS LIEGENSCHAFTEN TV CHANNEL!
Be inspired by wonderful real estate, unique virtual tours, partner portraits and documentaries about different locations.